​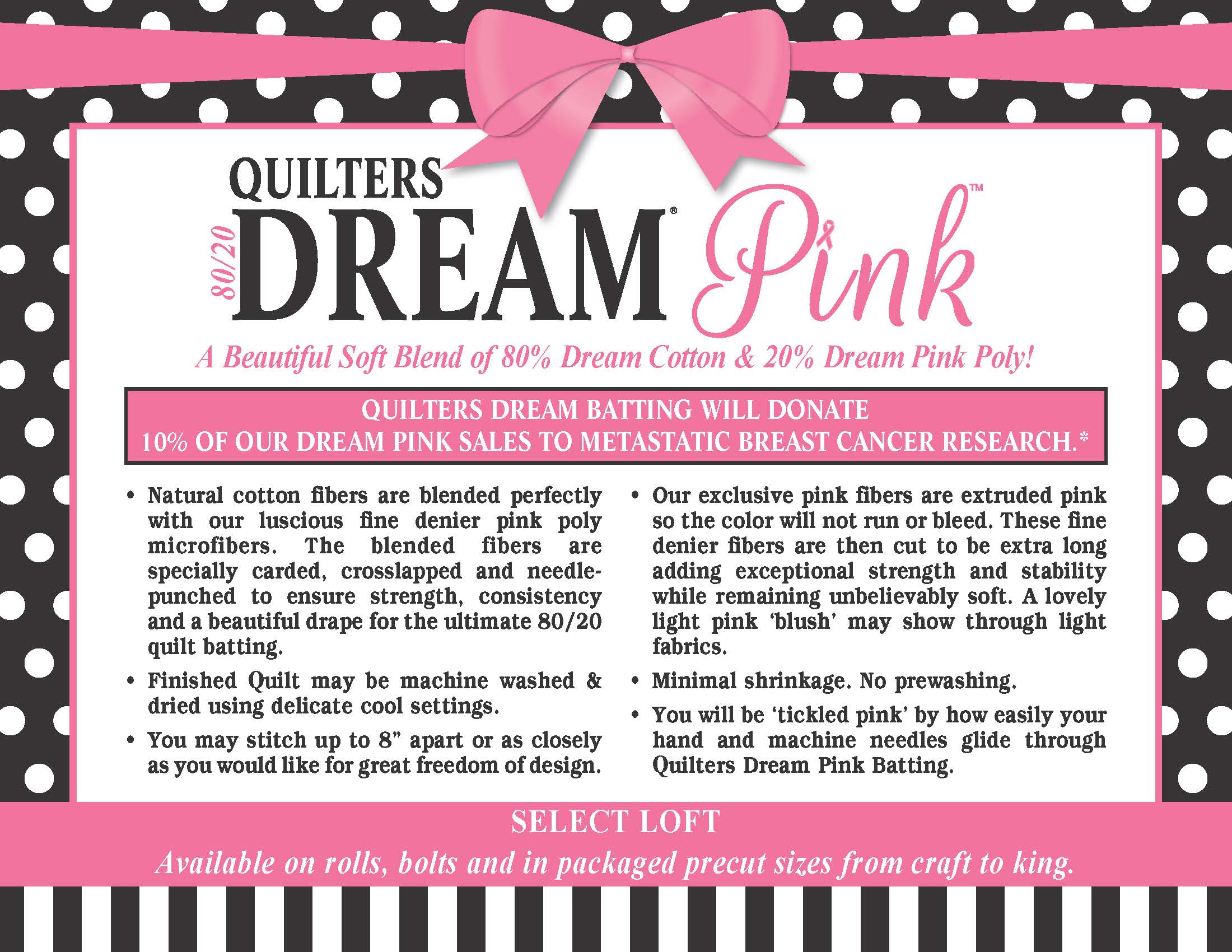 A Beautiful Soft Blend of 80% Dream Cotton & 20% Dream Pink Poly!
Natural cotton fibers are blended with our luscious fine denier pink poly microfibers. The blended fibers are specially carded, cross lapped and needle punched to ensure, strength, consistency and a beautiful drape for the ultimate 80/20 quilt batting.
Think Pink!
Since many of the #battgirls in the Quilters Dream Batting family have been impacted by the cruel effects breast cancer, Quilters Dream Batting owner, Kathy Thompson, has been working on our newest Dream Batting and was compelled to 'do something special' - Dream Pink!
While early stage breast cancer treatment and awareness is generously funded, Kathy was surprised to learn, that similar to her son Josh's advanced stage ALS, medical research for advanced stage breast cancer is woefully underfunded and largely unrecognized. We are thrilled to donate 10% of the wholesale sales of Dream Pink to benefit advanced stage mestatic breast cancer research!
Finished quilt may be machine washed and dried using delicate cool settings.
You may stitch up to 8" apart or as closely as you would like for great freedom of design.
Our exclusive pink fibers are extruded pink so the color will not run or bleed. These fine denier fibers are then cut to be extra long adding exceptional strength and stability while remaining unbelievably soft. A lovely pink 'blush' may show through light fabrics.
Minimal shrinkage. No prewashing suggested.
Available in Select mid-loft weight.
You will be 'tickled pink' by how easily your hand and machine needles glide through Quilters Dream Pink Batting!